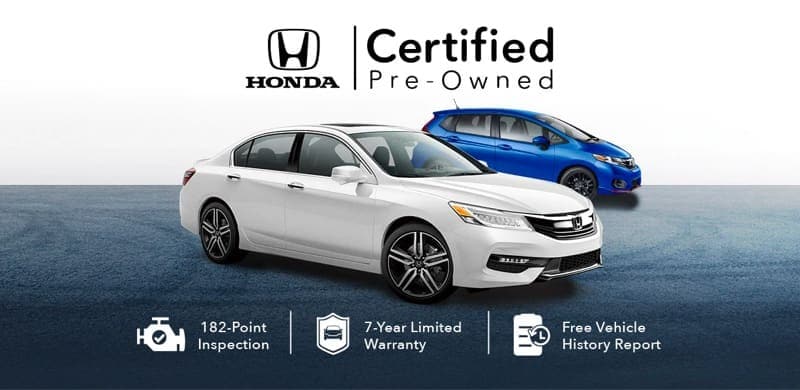 Certified Pre-Owned
Nothing compares to the quality of a Honda. No other program comes close.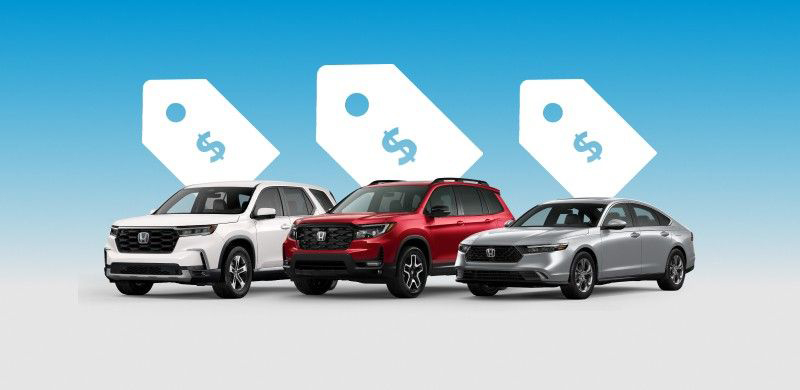 Current Offers
See this month's featured current offers going on now on new Honda vehicles.
Our Reviews
chinh did such an amazing job getting me set up with my new lease. he was prompt, didn't promise anything he couldn't deliver, and got me a new car that i love!
Good communication fast and easy appointments I clean and friendly staff good amenities great job
Greg was attentive and showed me how I could fix some of my issues right then and there and taught me how to address the issue in the future. I greatly appreciated that. We took out my dog's car seat from the front so he could sit next to me and show me some things and they put it back by the time I got my car back. I appreciated that since, to me, that is something extra they didn't have to do. Wait was reasonable but the price was high. Honda controls that and I honestly think it was higher than necessary and I will say that the tvs in the lobby are a bit loud for those of us who don't want to watch them. As for my actual service, nothing was lacking and my expectations were met or exceeded.
Great communication, great service, honest go thru process and most of all love my vehicle
My car needed repair. The Service Team, Brian S. and Linton J. were very professional and gave great customer service. My car is back on the road with the help of Rusty Wallis Honda.
I have bought two cars through Rusty Wallis. Excellent group. The service department has always been very responsive to any issues. And thankfully with Honda those issues are few and far between.
The shop and waiting area were very clean, neat and with no trash in the parking lot. The personal were friendly and helpful.
The team at Rusty Wallis did a great job from the start of finding me what i was looking for through the end with me picking up my new car!
Great car experience. John Williams was great working tirelessly in finding me the right car.
Eric was great to deal with. Very little back and forth to hit the numbers I needed. 2nd car I've purchased from this dealership and I would buy again!
Outstanding!! Could not ask for better service from the first time that I started dealing with Rusty Wallis Honda several years back. Let me mention Eric my salesman & today my 1st experience with Brian in Service. Eric has been so great thru the years. Brian, let me say I cannot say enough good things about Brian!! He is more than awesome & with such a good work ethic. He went so far above his duty to get my van serviced today, even came in on his day off! Kept me informed of the progress & was exceptional in every way!
Enjoyed working with the team at Rusty Wallis. Great communication and efficiency!
I visited Rusty Wallis Honda to get my engine oil changed, and found out that my CRV also needed the transmission fluid changed. The technician did the work and my car was also washed. All this took about an hour. The technician did a great job, and the employees were all very friendly and helpful.
Friendly, thorough and great communication!
We recently bought a Honda Ridgeline and were very happy with the whole sales experience. Edwin was extremely professional and made the process simple and quick.
I had my 2014 Accord serviced for two separate reasons within two weeks. Both times, Leo was professional and knowledgeable, he answered all my questions and put me at ease. I will always ask for Leo as my service advisor when I need service. Thank you.
John Williams in sales was very helpful and took his time to make sure I got the car I wanted. What was difficult was it wasn't one that was in the lot. But he would keep me up to date on the ETA. Great job John! Thank you!
I recently bought a 2022 Honda Accord Hybrid and it was the best car buying experience I've had. Eric and Kevin made the whole process as painless as possible and the overall experience was great! If you're in the market for a new vehicle definitely go check them out!
I recently bought a 2022 Honda Accord Hybrid and it was the best car buying experience I've had. Eric and Kevin made the whole process as painless as possible and the overall experience was great! If you're in the market for a new vehicle definitely go check them out!
The customer service was absolutely amazing and the whole process of buying my car was quick, through, and easy. Jesse Thompson was amazing and very friendly. Thank You
Leo was very helpful, accommodating and worked fast!
All staff interactions were terrific. I will buy from this dealership next time I am ready for a new car
Always polite, they explain what is needed. No surprises on the bill. Comfortable waiting area even for an extended wait.
Wait was a little long, but that's okay! They saw me same day and got me taken care of. Cooper was awesome!
Manny Morales was our sales guy. He did a great job throughout the process as well as the finance department in the back. Both departments added value to the process that I hadn't received in past experiences. The culture seemed very centered towards helping rather than pressuring. This was a great experience! I would come back and recommend them to others in the market.

Welcome to Rusty Wallis Honda
We appreciate you taking the time today to visit our website to find a Honda. If you are searching for a Honda, please use our interactive tour to find a new Honda or select our Certified Pre-Owned Honda to search our used Honda inventory, as well as allow you to conveniently get a quote when you find a Honda that meets your needs. Our interactive Honda shopping experience enables you to find a new or used Honda vehicle, service your Honda vehicle, or we provide easy auto loans once you find a Honda by applying for financing.
Don't miss out on all the benefits and services that our Honda dealership in Dallas can offer you. Contact or visit our location for more information and services today!
New Honda Vehicles at Rusty Wallis Honda
As one of the most trusted car dealerships near Mesquite, TX, you can find a wide variety of Honda vehicles at our Garland-area dealership. Our vehicles range from sleek and sporty sedans, strong and capable SUVs, powerful trucks, and more. Our experts at our Honda dealership in Dallas, TX are ready to assist you and help you select the perfect vehicle for your lifestyle!
Pre-Owned Vehicles
Not only do we specialize in selling new vehicles, but used vehicles as well. Our Mesquite-area location is one of the most highly rated car dealerships near Mesquite, TX because we ensure that you're getting a pre-owned vehicle that runs like new. A lot of people are turned off at financing pre-owned, but they'll be missing out on benefits like these:
- Pre-owned vehicles are priced lower than MSRP
- The majority of the depreciation of the vehicle has already occurred
- You'll have a wider range of vehicles to choose from And more!
Financial Services at Rusty Wallis Honda
At our Honda dealership in Dallas, TX, we pride ourselves on giving our customers the very best deals. Our finance center at our Richardson-area dealership will work with your budget to make sure you're getting the best deal possible. This is why we're one of the most trusted car dealerships near Mesquite, TX. We can offer you several finance options, such as: leasing, cash payments, and financing a vehicle.
Maintenance Services at Rusty Wallis Honda
All cars need maintenance, and our service center at our Honda dealership in Dallas can fix your vehicle up like new. You'll be back to your schedule in no time! Whether you need normal maintenance like oil and fluid changes or need OEM parts for your vehicle, we can help you. If your vehicle does need maintenance, don't hesitate to schedule a service appointment with our team of experts at our Honda dealership in Dallas, TX.
Discover Something New at our Honda Dealership in Dallas, TX
At our Honda dealership in Dallas, we have devoted ourselves to helping our Honda owners and serving our Honda customers to a level of service that exceeds usual service standards. We believe the Honda cars we offer are the highest quality and ideal for your life needs. We understand that you rely on our website for accurate information, and it is our pledge to deliver you relevant, correct, and abundant content.
Please do not hesitate to contact us with any questions you may have. Our staff is happy to answer any and all inquiries in a timely fashion. We look forward to doing business with you!
Get Directions To Rusty Wallis Honda